Welcome to Week 6 Greensgrow CSA Members!
Category: Farm Share Newsletter
It's hard to believe that we're coasting through February and that soon, but not soon enough, it will be warm all the time and not just random days throughout the week.
This week is our signature breakfast share and we include some staple items for a pretty amazing breakfast situation. The honey comes from Fruitwood Orchards, a fixture in our farmstand and the farming community in the Delaware Valley. The Wright Family began farming in the Delaware Valley in the 1800's, originally utilizing the bees to pollinate their orchards. Nearby farmers began requesting the services of their beehives for the pollination of various crops. Soon, the Wrights business was almost exclusively engaging in honey and pollination services. Today, they provide Greensgrow an array of honey, with a jar making its way into your CSA share this weekend.
We're also really excited about the meat in this share (it's been in the works since December!). Primal Supply Meats is dedicated to providing sustainable, pasture-raised meat to consumers in Philadelphia. They source from local farmers that raise animals in a natural, healthy environment and manage their land responsibly (like Greensgrow!). The pigs were able and encouraged to roam, forage, graze and exercise their natural animal instincts and never received hormones, sub-therapeutic antibiotics and any supplemental food is free of GMO's.
The Vegetarian/Vegan share has also been a work in progress for months. Deidre, our farmer, ordered seeds months ago, planted them and now carrots are coming your way! This holds true for the radishes from Emanuel, who has been constantly striving to improve his greenhouse so that he can provide Greensgrow CSA members (and not just the vegetarian share) with an array of produce throughout the winter. Speaking of planning, the provider of your Sweet Potatoes, John Glick, and his wife, Rachel, visited our farm on Tuesday morning to talk about all the things planned for the Summer CSA. There are a lot of exciting fruits + veggies in the works!
In other exciting news, we are partnering with Mycopolitan, one of our local mushroom farms to hosting a Mushroom CSA pick up for the remainder of the season. If you are a mushroom lover, Tyler & Mycopolitan will make you a very happy person. The shares will begin the first week of March (the same dates and time as the Greensgrow CSA) and will continue until the last CSA pickup. Each share costs $26.00 and contains 2 to 2.5 pounds of mushrooms plus some other goodies. A disclaimer, we are just hosting this and cannot accept payments or any fun things like that. You can signup and pay here.
Oh! Philly Fair Trade will be at our Kensington location this Saturday with coffee and more. Stop by their table and say hi to them and learn more about their coffee!
The CSA Hotline number has changed!
Questions? CSA related emergency? Account issue?
Call 215.427.2780 ext. 2 or email us at csa@greensgrow.org.
PRODUCE
Listed from the most to least perishable.
1 head of Cabbage, Lancaster Farm Fresh
2 lbs. Onions, Sunny Harvest Co-op, Cochranville, PA
2 lbs. Potatoes, Twin Maple Farm, Bath, PA
12 oz bag Frozen Peppers, Earth Bridge Farm, Kingston, NY
½ pt. of Greensgrow Label Jam, Greensgrow Farms, Philadelphia, PA
8 oz. jar of Honey, Fruitwood Orchards, Monroeville, NJ
1 pack Philly Muffins, Philly Bread, Philadelphia, PA
MEAT SHARE
1 lb. of Bacon, Primal Supply, Philadelphia, PA
VEGETARIAN & VEGAN SHARE
1 bunch Carrots, Greensgrow Farms, Philadelphia, PA
1 bunch Radishes, Emanuel Stoltztus, West Grove, PA
2 lbs. Sweet Potatoes, John Glick, Quarryville, PA
DAIRY/PROTEIN CHOICE
1 Dozen Cage Free Eggs, Sandy Ridge Farm, Elizabethtown, PA
2-6oz Yogurt, Pequea Valley Farms, Ronks, PA
Amish Roll Butter, Minerva Dairy, Ohio
Organic Kosher Tofu, Fresh Tofu, Allentown, PA
Seitan, Michael's Savory Seitan, Florence, NJ
1 Quart of Milk, Trickling Springs Creamery, Chambersburg, PA
Add on Shares
SOUP & BREAD SHARE: Good Spoon Foods & Philly Bread
Rustic Lentil Soup with Kale & Potatoes (vegan, gluten-free) a hearty and healthful with green lentils and lots of local veggies in a rich homemade vegetable broth
Mushroom Velouté (vegetarian) delicate puree of local organic mushrooms with just a touch of local organic dairy
Sunday

Frittata
INGREDIENTS:
12 Large Eggs
Salt & Black Pepper
1/4 cup Grated Parmesan or Romano Cheese
1/2 cup Grated Cheddar or Monterey Jack Cheese (more To Taste)
2 dashes Hot Sauce, Optional
2 Tablespoons Butter
1 onion, Halved & Sliced Thin
1 ½ cup of cooked potatoes, cooled & diced
1 cup of frozen spinach (from last week)
2 cups of chopped peppers
1/4 cup Chopped Green or Black Olives
METHOD:
Preheat the oven to 375 F. Mix together the eggs with the salt and pepper (do not over mix!) Stir in the grated cheeses and set aside and the hot sauce, if applicable.
In a large oven-proof non-stick skillet, melt butter over medium-high heat. Add the onions and cook for several minutes, stirring frequently, until the onions are soft and golden brown. Add diced potato, sprinkle with salt and pepper, and stir with the onion for a couple of minutes. Next, add the spinach and cook for about 1 minute. Finally, add the roasted red peppers and olives and stir until everything is hot.
Make sure all the ingredients are evenly distributed across the bottom of the skillet, then pour in the egg mixture so that it evenly coats everything. Let the mixture sit on the burner for 30-45 seconds to set the edges, then put the skillet in the oven.
Watch the frittata as it cooks. Let it cook in the oven for 10-12 minutes until the eggs are set but remove it before the eggs brown very much on top.
Slide the frittata out of the skillet and onto a cutting board. With a long serrated knife, slice it into wedges and serve warm.
Spicy Cabbage with an Egg on Top
Adapted from thedomesticfront.com

INGREDIENTS:
1 Tablespoon olive oil
6 oz shredded green cabbage
Salt to taste
1 tablespoon of Sriracha
1 Egg
METHOD:
Heat the oil in a large saute pan and lower to medium heat then add the cabbage. Cook the cabbage until tender and starting to caramelize (slightly brown) around the edges. Slowly add in the hot sauce and saute for a minute or two more, at low heat (!) until the flavors are incorporated. In a separate pan, fry your egg sunny side up or to your liking. Plate the cabbage and serve the egg on top!
Restaurant Style Hash Browns
INGREDIENTS
2 medium potatoes, shredded
1/2 medium onion, finely chopped
1/4 cup all-purpose flour
1 egg
1 cup oil for frying, or as needed
salt and pepper to taste
METHOD:
Rinse the shredded potatoes until water is clear, then drain and squeeze dry. Place shreds in a bowl, and mix in the onion, flour and egg until evenly distributed.
Heat about 1/4 inch of oil in a large heavy skillet over medium-high heat. When the oil is sizzling hot, place potatoes into the pan in a 1/2 inch thick layer. Cover the whole bottom of the pan, or make separate piles emulating pancakes. Cook until nicely browned on the bottom, then flip over and brown on the other side. It should take at least 5 minutes per side. If you are cooking them in one big piece, it can be cut into quarters for easier flipping.
Remove from pan, and drain on paper towels. Season with salt and pepper and serve immediately.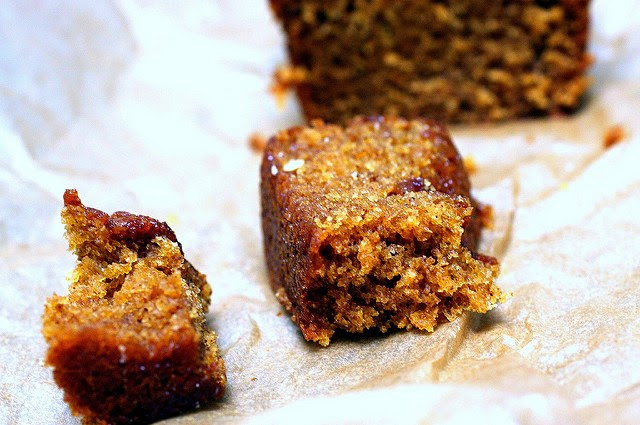 Honey Cake
INGREDIENTS:
3 1/2 cups (440 grams) all-purpose flour
1 teaspoon (5 grams) baking powder
1 teaspoon (5 grams) baking soda
1/2 teaspoon kosher salt
4 teaspoons (about 8 grams) ground cinnamon
1/2 teaspoon ground cloves
1/2 teaspoon ground allspice
1 cup (235 ml) vegetable oil
1 cup (340 grams) honey
1 1/2 cups (300 grams) granulated sugar
1/2 cup (95 grams) brown sugar
3 large eggs at room temperature
1 teaspoon (5 ml) vanilla extract
1 cup warm (235 ml) coffee or strong tea
1/2 cup (120 ml) fresh orange juice
1/4 cup (60 ml) rye or whiskey
1/2 cup (45 to 55 grams) slivered or sliced almonds (optional)
METHOD:
Preheat the oven to 350°F. Generously grease pan(s) with non-stick cooking spray. For tube or angel food pans, line the bottom with lightly greased parchment paper and cut to fit.
In a large bowl, whisk together the flour, baking powder, baking soda, salt, cinnamon, cloves and allspice. Make a well in the center, and add oil, honey, white sugar, brown sugars, eggs, vanilla, coffee or tea, orange juice and rye or whiskey, if using. (If you measure your oil before the honey, it will be easier to get all of the honey out.) Using a strong wire whisk or in an electric mixer on slow speed, stir together well to make a thick, well-blended batter, making sure that no ingredients are stuck to the bottom.
Spoon batter into prepared pan(s). Sprinkle top of cake(s) evenly with almonds, if applicable. Place cake pan(s) on two baking sheets, stacked together (this will ensure the cakes bake properly with the bottom baking faster than the cake interior and top).
Bake until cake tests done, that is, it springs back when you gently touch the cake center. For angel and tube cake pans, this will take 60 to 75 minutes, loaf cakes, about 45 to 55 minutes. For sheet style cakes, baking time is 40 to 45 minutes.
Let the cake/s stand fifteen minutes before removing from pan and serve warm!
Note from Smitten Kitchen:
Fits in three loaf pans, two 9-inch square or round cake pans, one 9 or 10 inch tube or bundt cake pan, or one 9 by 13 inch sheet cake.