Greensgrow Winter CSA: Welcome to Week 7
Category: Farm Share Newsletter
We have lots of announcements this week, including the launch of our Summer CSA Program! There are a lot of changes this year including, but not limited to: a new CSA share (the fruit & veggie share), new member interface (it's easy! It's mobile!), new offsite pickups and other fun.
The Fruit & Veggie Share will cater to individuals that want to pick-up weekly but less food. It will include 5 vegetables and 1 fruit and will not include any protein (like eggs, tofu, etc.). The Full & Half Farm Share will include all the vegetables in the Fruit & Veggie Share plus extra veggies, fruit, and prepared goods (cheese, pasta, etc.) + the protein selection. We hope that this will provide our community with a CSA that fits their food consumption needs.
Also, we are building our CSA pickup calendar and will host a series of tasting with Cideries, distilleries, and breweries during the Summer CSA Greensgrow Farms pickups. We have a couple of other ideas like roundtable discussions with our farmers, artisan tastings, expanding on themed shares + more!
On to our share for this week! This week highlights the complicated weather we've been having, offering you an option to savor winter or treat yourself to tastes of summer & spring. How? The joys of frozen items… we have frozen sweet corn from the midst of summer (that is can also be used in a mean chili recipe) as well as frozen raspberries.
You could either go the burger route (which, the 75-degree weather has created some serious cravings for anything from the grill) or go the opposite route and make some delicious root vegetable chili (recipe below) to counter the impending snowstorm on Friday. We curated a share that highlights the joys of winter (root crops like parsnips + carrots) and the effectiveness of flash freezing produce during their prime flavor and abundance (raspberries + sweet corn).
The meat for the share comes from Landisdale Farms, a family owned and operated certified organic farm located in Lebanon County, Pennsylvania. The ground beef comes from their Devon-Angus crossbred cattle are raised and finished on grass. No growth hormones or steroids are ever used for their 100% grass-fed beef. For our vegetarian share, we have fresh spinach (always a treat) as well as Aztec Fuji Apples This sweet treat is definitely a dessert apple. It's a thin-skinned, with a good, strong, firm crunch, the "Fuji" delivers a spicy sweet flavor. The apple has beautiful highlights set off the deep red color giving the Fuji its own unique look
We'll have some more celeriac at our Greensgrow Farms Farmstand as well as shallots, apple cider, and some black radishes (along with a host of Greensgrow Grown items)! We are building out our cheese, ice cream, and other goodies as the Garden Center will now be open with lots of awesome plants and products for sale. Philly Fair Trade will be around doing CHEMEX POUROVER tastings plus we will have hot chocolate. We promise you'll be caffeinated (if that's your thing).
The CSA Hotline number has changed!
Questions? CSA related emergency? Account issue?
Call 215.427.2780 ext. 2 or email us at csa@greensgrow.org.
PRODUCE
Listed from the most to least perishable.
1 head Mixed Lettuce, Emanuel Stoltzfus, West Grove, PA
1 lb bag of Cornmeal, Castle Valley Mill, Doyelstown, PA
1.5 lb Parsnips, Lancaster Farm Fresh, Lancaster County, PA
1.25 lb Cylindrical Beets, Sunny Harvest, Cochranville, PA
.75 lb Garlic, Sunny Harvest, Cochranville, PA
1 pack Sweet Corn, Earth Bridge Farm, Kingston NY
1.5 pint bag Frozen Raspberries, Sunny Harvest, Cochranville, PA
MEAT SHARE
1 lb Ground Beef, Landisdale Farms, Jonestown, PA
VEGETARIAN & VEGAN SHARE
½ lb Bag Fresh Spinach, Emanuel Stoltzfus, West Grove, PA
1.5 lb Purple Top Turnips, Landisdale Farm, Jonestown, PA
2 lb Aztec Fuji Apples, Three Springs Fruit Farm, Aspers, PA
DAIRY/PROTEIN CHOICE
1 Dozen Cage Free Eggs,Sandy Ridge Farm, Elizabethtown, PA
2-6oz Yogurt, Pequea Valley Farms, Ronks, PA
Amish Roll Butter, Minerva Dairy, Ohio
Organic Kosher Tofu, Fresh Tofu, Allentown, PA
Seitan, Michael's Savory Seitan, Florence, NJ
1 Quart of Milk, Trickling Springs Creamery, Chambersburg, PA
Add on Shares
SOUP & BREAD SHARE: Good Spoon Foods & Philly Bread
Smoky Black Bean & Sweet Potato Soup (vegan, gluten-free)
robust and earthy with a hint of smoky spice
Curried Red Lentil Soup (vegan, gluten-free)
a light puree, warm and savory with traditional Indian spices
COFFEE SHARE: Philly Fair Trade
Peru: Smoky and dark, this wild coffee offers a classic French roast for those who like an intense coffee. Philly Fair Trade roasts this coffee very precisely, to balance the natural light body of the La Florida region's coffee with the inherent deep chocolate notes that come with any dark roast. This coffee will add a kick in your step anytime of the day.
Nicaragua: From the Las Segovia region of Nicaragua, Philly Fair Trade Roasters presents this complex and medium bodied coffee. The most dynamic part of our Nicaraguan coffee is its gentle crisp sweetness. It has a grapefruit tartness which sits at the top of the tongue and dances gloriously. Grown at high elevations, from 3500-5500 feet above sea level, this provides a cool brightness, unlike other specialty coffees.
Greensgrow Blend: A blend of South & Central American coffee, The Greensgrow Blend is offered exclusively to the members of the Coffee Share! The beauty of this coffee is that it is a crowd-pleaser. Everyone can love waking up in the morning to this coffee specifically designed to pair well with any meal. It is also dark enough to stand up as a post-dinner dessert coffee, paired with any sort of sweet in a delicious combination.
CHEESE SHARE: Valley Milkhouse
Blue Bell: aged 4 months, fudgy texture, savory/earthy flavors
Lady's Slipper: cider washed tomme aged 2 months with sweeter, malty, nutty flavors
Thistle: Brie style deliciousness
Spicy Root Vegetable Chili
INGREDIENTS:
2 tablespoons olive oil
4 cloves of garlic. minced
½ large yellow onion, diced
1 medium red bell pepper, diced with seeds and stem removed (can use frozen!)
1 large beet, peeled and diced
2 medium parsnips, peeled and diced
1½ cup frozen corn
2 cups vegetable broth
1 – 15 ounce can black beans, drained and rinsed
1 – 7-ounce chipotle peppers in adobo sauce, roughly chopped
3 tablespoons adobo sauce from same can, more to taste
1 – 14 ounce diced tomatoes
1 – 6-ounce tomato paste
1½ teaspoon dried oregano
⅛ teaspoon allspice
1 teaspoon cumin
1 teaspoon thyme
1 teaspoon paprika
1 teaspoon chile powder
Optional – Sliced radishes and/or cilantro for garnish
METHOD:
Add olive oil to a medium sized pot, and allow it to heat for about a minute before adding the minced garlic and diced onion. Cook these for about a minute or two until aromatic before adding diced red bell pepper, diced parsnips, diced beets, diced jalapenos, and corn to the pot. Cook these vegetables for a few minutes until the vegetables have softened.
Pour in the vegetable broth. Allow the vegetables to cook in the broth over medium to high heat for about 15 minutes until the vegetables are all tender. Lower the heat to low, then add black beans. Stir in diced tomatoes, tomato paste, chipotle peppers, adobo sauce, and all the spices. Allow the spicy root vegetable chili to simmer for a few minutes before serving.
For an extra indulgence, add a tablespoon of butter to a skillet over low heat. For vegan/vegetarians options, leave out the butter. Serve the spicy root vegetable chili warm with cornbread.
Garnish with cilantro and radishes if desired.
** Note, if you'd like to use that Landisdale Ground Beef, this is also a PERFECT application for it.
Roasted Parsnip Spinach Salad
Adapted from naturallyella.com
INGREDIENTS:
2 parsnips
2 teaspoons olive oil
1/4 teaspoon salt
1/4 teaspoon black pepper
2 teaspoons honey
1 teaspoon olive oil
1/3 cup diced green onion
1 tablespoon toasted sesame seeds
1 cup cooked wild rice
3-4 cups baby spinach
1 tablespoon soy sauce
2 teaspoons lime juice
2 teaspoons honey
METHOD:
Preheat oven to 400˚. Cube parsnip (peeling before, if desired) and toss with the 2 teaspoons olive, salt, and pepper. Roast until tender and lightly browning, 25 to 30 minutes.
Remove parsnips from oven and drizzle honey, sprinkle with diced green onions and sesame seeds. Stir until parsnips are well coated. Let cool slightly. Toss together spinach and wild rice.
In a small bowl, whisk together soy sauce, lime juice, and honey. Drizzle over spinach and toss to coat. Add the roasted parsnips and serve with an extra sprinkle of green onions and sesame seeds if desired.
Honey Skillet Cornbread
INGREDIENTS
1/2 cup (115g) unsalted butter
1/3 cup honey
1 large egg, at room temperature
1 cup buttermilk, at room temperature
1 cup cornmeal
1 cup all-purpose flour
1 teaspoon baking powder
1/2 teaspoon baking soda
1/8 teaspoon salt
1 cup frozen corn
METHOD:
While constantly whisking, melt butter over low heat in your skillet. Pour butter into a medium bowl and allow to cool down for 5-10 minutes.
Meanwhile, preheat oven to 400°F (204°C). Next, whisk the honey, egg, and buttermilk into the melted butter. Set aside. In a separate larger bowl, whisk the cornmeal, flour, baking powder, baking soda, and salt together. Pour the wet ingredients into the dry ingredients and whisk until combined. Fold in the corn and avoid over-mixing.
The skillet should still be hot, but if not– heat the stove on low and warm it up for a minute or two. You want a hot skillet. Pour batter into hot skillet. Bake for 20 minutes or until the edges and top are golden brown and the center is cooked through. Use a toothpick to test to check. Allow to slightly cool before slicing and serving.
Serve cornbread with butter, honey, jam, whatever you like. Wrap leftovers up tightly and store at room temperature for up to 1 week.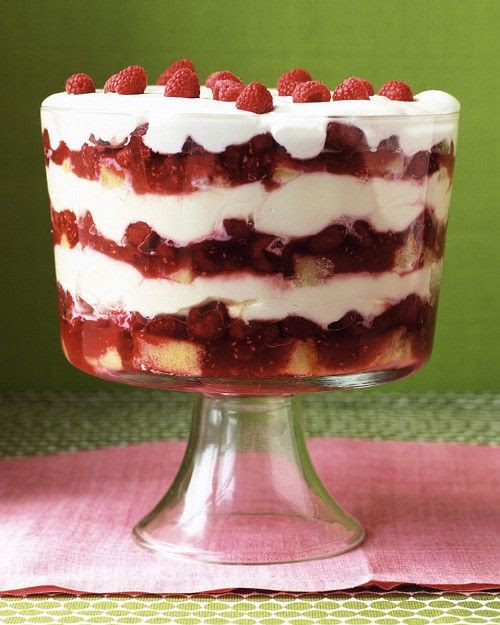 Raspberry Trifle
INGREDIENTS:
1 1/2 cups heavy cream
1/4 cup white sugar
2 (8 ounce) packages cream cheese, softened
2 teaspoons lemon juice
1 1/2 teaspoons vanilla extract
1/2 cup white sugar
1 (10.75 ounce) package prepared pound cake
2 (10 ounce) packages frozen raspberries, thawed
2 tablespoons unsweetened cocoa powder, for dusting
METHOD:
In a medium bowl, beat cream with 1/4 cup sugar until stiff peaks form. In another bowl, cream together cream cheese, lemon juice, vanilla and 1/2 cup sugar. Fold 2 cups of whipped cream into cream cheese mixture. Reserve remaining whipped cream.
Slice pound cake into 18 – 1/2 inch slices. Drain raspberries, reserving juice. Line the bottom of a 3-quart glass bowl or trifle bowl with one-third of the cake slices. Drizzle with some raspberry juice.
Spread one-fourth of the cream cheese mixture over cake. Sift one-fourth of the cocoa over that. Sprinkle with one-third of the raspberries. Repeat layers twice. Top with remaining cream cheese mixture, whipped cream and sifted cocoa.
Cover and refrigerate 4 hours before serving. Enjoy!